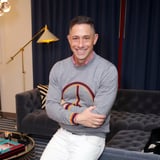 If you, like us, covet Jonathan Adler's designs, we've got good news: you can now pay to stay in an Adler-designed room at the Andaz West Hollywood. The newly designed suite, which boasts views of the Sunset Strip, is also a chic way to give back. That's because 30 percent of the proceeds from bookings will go to the Global Fund to fight AIDS with advocacy group (RED.) The partnership made perfect sense for Jonathan, who's a passionate supporter of the cause, and has a boutique just a mile and a half down the road from the storied hotel. "It seemed like it was just fated to be," he told us when we caught up with at a special sneak preview of the suite.
The room features nods to the hotel's rock-and-roll past alongside his own self-described "trend adjacent" furniture and decor. Read on to hear more about Jonathan's latest design obsessions, interior decorating pet peeves, and his favorite places to soak up inspiration - and to get a look at some truly stunning photos of his collaboration with (RED) and Andaz.
On the decorating trend he wishes would die in 2017
Taxidermy. Not a fan. It makes me so sad. I think it makes people feel edgy, which I don't understand. It's just...