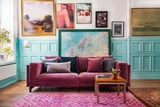 There's an Ikea hack for every style, thanks to Swedish company Bemz. The slipcover company, founded by Lesley Pennington, has over 300 fabrics for customers to choose from. "We want to take people on a journey that will allow them to do something creative with their home," Pennington says.
When you buy a Bemz product, you're buying something created by a pretty impressive female entrepreneur. Pennington, originally from Canada, studied Fine Art at the University of Toronto and worked at Apple in Silicon Valley before moving to Stockholm. She has called Sweden her home for over 20 years now. It was in Stockholm that she came up with the idea for Bemz in 2005. While re-furnishing her family's home, she looked for an easy way to re-cover her Ikea sofa to match her style. When she couldn't find any good options, she created a company that would do just that.
Choosing a slipcover for an Ikea piece comes with many practical benefits. For one, they're machine washable. Bemz slipcovers are also custom made on demand, which helps cut down on waste, making them eco-friendly. In addition, the company uses quality, natural fabrics, like linens and cotton. "We think our products are...