I'm the type of person that normally burns grilled cheese sandwiches.
There is a new cooking challenge I am joining and it is
Mom's Crazy Cooking Challenge
. This month the crazy challenge was to find a grilled cheese sandwich from another blogger and make it! Sounds fun right!
But....
I'm the type of person that ALWAYS burns grilled cheese sandwiches. SO, I was really afraid of what might happen when going to make this sandwich!
As a southern girl, I love all things pimento cheese and how could you go wrong with BACON! This Sandwich was definitely not for the faint of heart! It was fabulous!
I think the first thing you have to do is start out with a good piece of bread and I used Sourdough. The next thing is butter. Real butter. Then you have to have some good cheese. Even though there is pimento cheese already in the sandwich I went ahead and added a piece of Colby cheese for some action cheese action.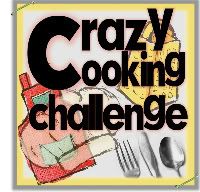 Grilled Pimento Cheese with Bacon Sandwich
8 slices of bread, good quality
4 slices of bacon, cooked and split in half
pimento cheese
butter
4 slices of colby cheese
Prepare the sandwiches by heating a heavy skillet or griddle to medium heat.

Place eight slices of the bread butter side down and divide the spread evenly among them.

Spread the pimento cheese evenly over the bread and then place two bacon halves on the cheese.

Top with a piece of colby cheese on top of the bacon.

Top with a bread slice, buttered side up.

Place the sandwiches into the hot pan and grill until the bread is golden brown, about 1 to 1 1/2 minutes. Carefully flip the sandwich and griddle for 1 minute more, or until the second side is golden. (

The pimento cheese melts fast so keep an eye on it. )

Allow the sandwiches to cool for a few minutes before serving.

Enjoy!