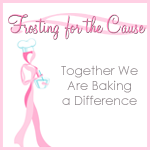 Today is my contribution day for Frosting for the Cause! It's a great collection of baker across Canada and the United States showing their support for their female loved ones with cancer.
My contribution was Coconut Cupcakes! You will see the recipe for it here!
Go check them out and sign up for a day to bake!